Be watchful, stand firm in the faith, act like men, be strong.
KOZ provides men of your church with training and curriculum to mentor boys using outdoor adventure.
The training is done by streaming video at the host church. The training includes a one-and-a-half hour section with the leaders and their wives. The second is a 5-hour section with workbook for the men. Once trained, the men are certified as KOZ Harvest Team Leaders (Outdoor mentors).
After training, the men plan their monthly meetings/adventures with the boys based on the monthly curriculum provided.
Today, over 40% of the boys in our nation do not have a dad living at home. The lack of this male role model has created a dramatic increase in drug use, school drop-out, pregnancy, and more. The average kid also spends 40 minutes a week outside, 70 hours in front of a screen. This trend is creating an unhealthy mental, physical, and spiritual population among our boys today. It is at catastrophic levels. However, every socioeconomic, health, and mental statistic improves substantially when a boy receives a mentor.
Boys are drawn in by the outdoor adventure and training by an adult man. Every boy truly is "Wild at Heart." This internal longing fits perfectly with the KOZ program.
The KOZ leader's ability to share the love of Jesus and a Heavenly Father changes the boys. In an outdoor setting boys are more attentive and can focus on the time with their KOZ leader and the gift of knowing Jesus.
The KOZ training dives deep into all these elements of ministry for the men of the church and the boys of our world. CLICK HERE for more info on starting a KOZ group.
SCRIPTURAL MANDATE. Proverbs 22:6, Psalms 68:5, Psalms 82:3, Deut. 27:19, Psalms 146:9, James 1:27, James 2:14-17, 2 Tim 2:2, Matt. 28:19-20, Psalms 145:4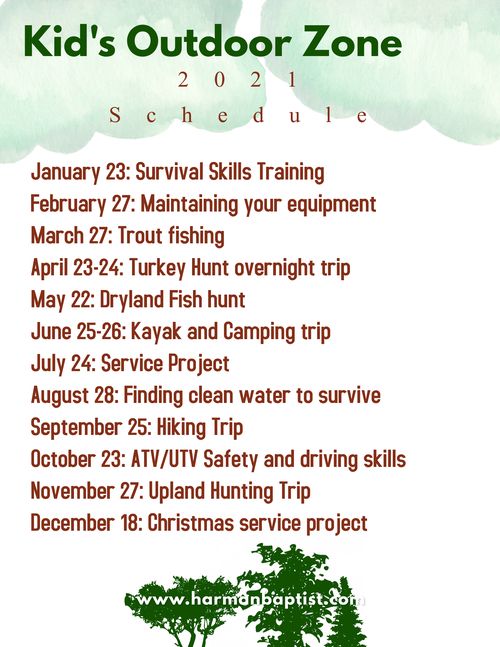 4th Saturday of Each Month
Harman Baptist Youth Center
Check out upcoming KOZ events on our facebook page
Get Connected. Go Deeper.
We'd love to hear from you. Fill out the form below to get started.